Dynamic Balancing Machine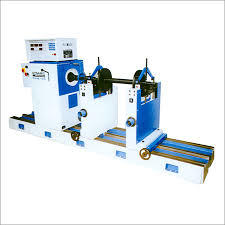 Dynamic Balancing Machine
Product Code : SCF-08
Brand Name : Shraddha Centrifugal
Machines that are out of balance undergo a series of problems such as vibration, bearing failure, structural damages, low efficiency, and higher energy consumption. All these issues impact productivity once the machines start to malfunction. These failures take a toll on your operations in the facility. Because of material wear, changes in the work condition of the machinery operation, bruising, and material adhesions, unbalance in the equipment arises.
Considering the effects of unbalanced equipment, it only makes sense to perform dynamic balancing to resolve potential problems. After all, many factors are contributing to uneven weight distribution in machines. These factors include modifications, installation, material buildup, wear, corrosion, and repairs. By having an expert conduct dynamic balancing to your equipment, you ease your worries. You also have assurances that your machines remain in a good working condition for a longer period.
All wheels are statically and dynamically balanced to grade G-2.5 and provide smooth operation prior to being assembled in the fan.
Contact Details
SHRADDHA CENTRIFUGAL FANS PVT. LTD.
Survey No. 402, Village Bhare, Taluka Mulasi, Pune - 412111, Maharashtra, India
Phone : +918068214060
Mr. Shripad Khisti (Managing Director )
Mobile : +918068214060